---
Concept Automation thermal transfer overprinters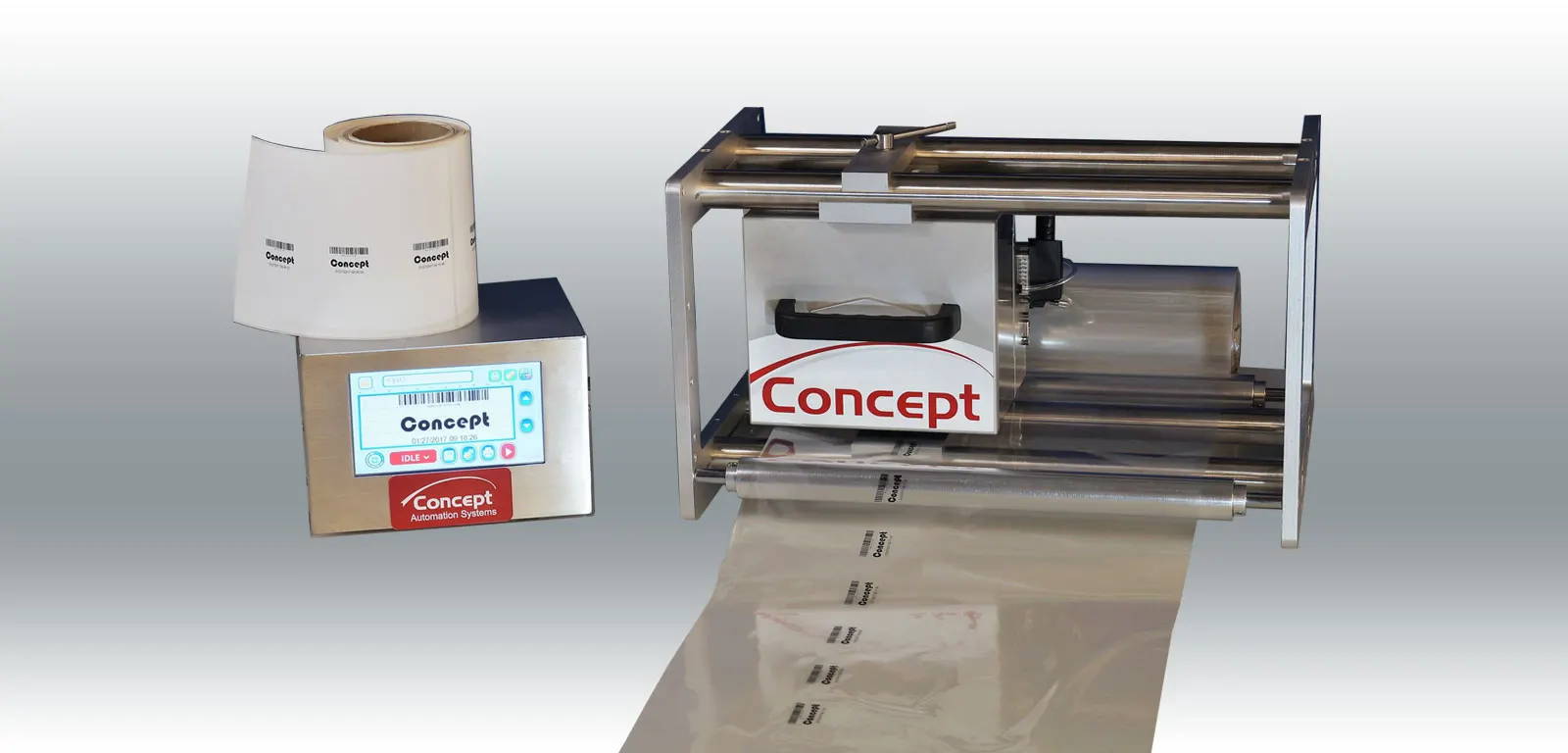 TTO is a fast, economical method of high-resolution printing at the point of packaging. Variable data, text, barcodes and graphics may be printed on flexible film, card stock and labels. Concept TTO printers can print in continuous or intermittent modes and are designed for installation on wrappers, lidders, bagging machines and labelers. Concept manufactures mounting for a wide range of equipment and our engineering staff is here to ensure proper integration into our customers' lines.
OEM: in addition to our Concept branded printers, we provide unbranded printers and custom mounting components to our OEM customers for installation as part of their equipment. Contact us for special OEM pricing and volume discounts of parts and supplies.
Print Software: Easy to use print design software is included with every sale, at no extra cost.
D03S Intermittent

D03S Continuous

D05S Intermittent

D05S Continuous

Print Head

1.25 IN, 300dpi

2 IN, 300dpi

Print Area

1.25 IN x 2.36 IN

1.25 IN x 2.36 IN

2 IN x 3.15 IN

2 IN x 5.90 IN

Print Speed

≤ 131 Feet /min

≤ 40m/min

Max Length of Ribbon

1969 Feet

Width of Ribbon

.86 IN - 1.30 IN

1.38 IN- 2.16 IN

Interface

USB, RS232

Electricity Supply

110-220V 50/60Hz

Power

200W

300W

32-104 °F

Relative Humidity

10%-95%(Non-condensing)

Air Supply

6bar/90psi(max), dry, clean

Weight

Print Unit: 19 LBS , Controller Box: 4 LBS

Print Unit: 21 LBS, Controller Box: 4 LBS

Dimension(L*W*H)

(Inches)

Print Unit:

7.4 X 7.4 x 7

Controller Box

6.9 x 9.2 X 4.3

Print Unit

8.3 x 8.3 x 7.3

Controller Box

6.9 x 9.3 x 4.3

Thermal Transfer Ribbon

Model

Type

Features

DG

Wax/Resin

will print on most packaging film.

DC

Premium Wax/Resin

Good adhesive, Cost effective.

DT

Resin

Excellent adhesive, suitable for high print requirements

DB

Thin Wax/Resin

Longer, reduce ribbon replacement
---
Consistent high quality text, date codes, lot codes, barcodes and more at 300DPI